At AMCO Waterproofing, we provide exterior waterproofing services to help homeowners achieve a more comfortable, moisture-free basement. Waterproofing your basement from the outside wall helps to stop water before it enters your basement or crawl space. This waterproofing solution differs from interior waterproofing in both the concept and scope of repair. We only use the best materials and products that the industry has to offer, so you can rest assured that our waterproofing company can help you achieve a dry and comfortable basement!
GMX Ultra-Shield Exterior Waterproofing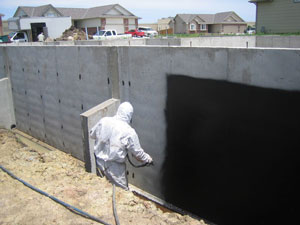 To ensure that your basement becomes the room of your dreams – protect it from the moisture that can lead to a damp, wet nightmare with basement waterproofing. The Ultra-Shield basement Waterproofing System is the best line of defense against below-grade moisture and the best insurance for a dry, comfortable environment.
The Ultra-Shield Waterproofing System consists of three high-performance components that reduce condensation by minimizing the freeze/thaw temperature cycles, thus producing a less humid, more comfortable basement:
Ultra-Shield Exterior Wall Waterproofing:
Protect basement walls far longer than conventional damp-proofing products with Ultra-Shield's tough flexible membrane. By maintaining its flexibility, the integrity of your basement is retained for years thanks to this waterproofing solution.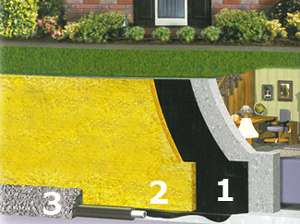 Ultra-Shield Basement Waterproofing is compatible with a wide range of insulation, drainage, and protection course products. GMX's Ultra-Dry Fiberglass Board provides insulating value and energy savings. By minimizing heat loss through your basement walls, Ultra-Dry reduces home energy use and lowers your utility bills.
Drainage System:
Using a traditional pipe and gravel drainage system, or prefabricated strip drain materials, moisture is channeled away from the basement and funneled into an exterior drainage system or sump crock.