A flooded basement is one of the worst disasters that can happen to homeowners. Of course, it is something nobody wishes to encounter, as basement flood damage expenses can cost thousands of dollars in damage. Indeed, a damp basement can turn into a major disaster for your home — even a small amount of water in your basement can cause damage to the structure of your home and may lead to the growth of mold and mildew that can cause a string of health problems for you and your family. Not to mention, a wet basement creates a variety of other issues and can even decrease your home's value by 10-20 percent.
A Guide To Basement Waterproofing
One of the most effective ways to prevent basement flooding is with professional basement waterproofing. Basement waterproofing from a professional waterproofing company is a permanent solution to stopping water from getting inside your basement, protecting the value of your home and making it a safer and more comfortable environment to live in. Basement waterproofing can be an overwhelming — and costly — process for homeowners. However, if you're dealing with leaky foundation walls or water welling up from the floor of your basement or crawlspace, finding an effective means of managing these problems could save you a lot in the long run. To ensure you better understand basement waterproofing, we put together a complete guide to assist homeowners.

What Is Basement Waterproofing?
Put in the simplest terms, basement waterproofing is the process of eliminating water and moisture from a basement and putting a waterproofing system in place to prevent it from entering again. In Winston-Salem, basement waterproofing is important for homeowners with basements, as unwanted water can enter in a number of ways. It doesn't need a large opening, in fact, it can come through the pores in a brick or the seals of a window.
Water seeks out the path of least resistance, and sometimes that means it will flow where you don't want it to go; inside your home. When it comes to basement waterproofing, there are a variety of techniques, both interior and exterior, that can be applied to your basement to keep your home dry. To adequately waterproof a basement, applying robust sealant materials and installing drains and sump pumps may be needed. Waterproofing is a crucial step in bringing homes up to building codes and is something that should never be overlooked. Generally, the most common waterproofing solutions for your home are as follows:
Interior Basement Waterproofing
Interior waterproofing is typically the simplest and most affordable basement waterproofing method. This method ensures that any cracks or holes in your basement walls, floors, and around windows and doors in your basement are properly sealed and watertight — water most frequently makes its way into our basement via these holes and cracks, so properly sealing them is the first step towards keeping your basement dry.
Exterior Basement Waterproofing
When it comes to wet basements, the cause of the issue is typically located outside of the home. So when it's time to waterproof your basement, it is essential to look outside of the walls of your basement. Exterior basement waterproofing is typically a much larger undertaking than the simple sealing process that is often used in the process of interior basement waterproofing. It is a good idea to consult a professional waterproofing company when considering exterior waterproofing methods.

Basement Drain Systems
Drainage problems are often the root cause of moisture problems in homeowner's basement. Having proper drainage around your home is key to maintaining a dry basement. The goal of basement drainage systems is to direct water — whether it be groundwater or rainwater — away from your home's foundation. There are a variety of basement pump systems available to help control the water around your home.

What Causes A Wet Basement?
Basement flooding is a widespread problem that can happen both during wet and dry weather. Although no basement is immune to flooding, understanding the causes of basement moisture and flooding can help you learn how to avoid these disasters. Here are some of the most common causes of basements flooding:
Drainage Problems

: Both the drainage system of your property and the gutters of your home play a role in preventing basement flooding. When your drainage system is ineffective or you have gutters that are clogged, improperly installed, or damaged, the basement is one of the first areas of your home where you will see water coming in.

System Failures:

From sump pump failure to damaged water supply lines and appliance leaks, there are several household systems that are often kept in the basement and need to function properly in order to prevent basement floods from occurring.

Improper Basement Sealing:

Basement walls and floors need to be properly sealed in order to prevent water from seeping into your interior, but that doesn't always happen. If your basement has improper sealing, water can enter into it through the ground — making your basement susceptible to flooding during heavy rain.

Cracked Foundation:

Water will likely make its way into your basement if you have cracks in your foundation. In fact, water can actually cause cracks in the foundation as well due to poor drainage in the soil. If water is not directed away from your foundation and accumulates against the foundation walls, and that pressure can force the water into the walls, forming cracks. No matter how the cracks formed, if they exist, water can enter your basement through them.

Condensation:

Condensation in the basement is created when warm, moist air comes in contact with the cool walls and floor of your basement. As the walls cool the warm air, moisture is created, just like condensation on a glass of ice water on a hot summer day. This process tends to dampen carpets and rugs, rust appliances, and make the basement feel clammy to the touch. Condensation can also cause wood to rot and walls, hardwood floors and framing to buckle. It can also encourage an insect infestation.
Tips To Prevent Basements Leaks
Basements are used differently by homeowners and are a space that can be transformed into your own space. Whether you plan on using your basement for extra storage or an extra living area, you'll want to make sure your basement is leak and moisture free! While basement waterproofing is the best way to keep water out of your basement, there are some other steps you can take to ensure your space stays dry!
Check Outdoor Issues First
If you are noticing leaks in your basement, you should check outside to see if you can identify the issue. Oftentimes, the problem could be due to faulty or improperly positioned gutters. Gutters play an essential role in protecting the foundation of your home and the basement from water leaks. They are designed to direct water away from your home, not towards your basement! However, many types of gutters can move, turn, and become incorrectly positioned. If you are noticing basement leaks, be sure to check the direction the downspout of your gutter is facing. If it is facing your home and failing to direct water away from the foundation that could be an issue that is causing basement leaks. Remember, if you gutters are not properly functioning, it will likely lead to a leak in your basement!
Water Runoff
If the gutters are not the issue that is causing a leaky basement, it's time to further examine the exterior of your home for vulnerabilities. If your home was built on a slope, it could be causing a water runoff, which in turn will result in both water and moisture in your basement. If you notice this issue, calling a basement waterproofing company who can help prevent your basement from leaks before they happen will save you tons of money.
Don't Ignore Small Leaks
Preventing damaging basement leaks begins with preventing the small ones first. Even the smallest cracks on the exterior of your home can lead to moisture getting in your basement. If you notice exterior cracks, it is important to contact a waterproofing service to identify and seal them before they lead to bigger issues!
Of course, the best way to stop basement leaks from occurring is to contact a basement waterproofing company come out and examine your home. If you are still unsure whether or not basement waterproofing is right for you, there are some tell-tale signs that you can be on the look for that indicate the need for this service.

What Are Signs That You May Need Basement Waterproofing Services?
There are some obvious signs that indicate you could benefit from professional waterproofing services, such as rooting wood or a broken sump pump. But what about those other, often unnoticed, signs that can be a more insidious issue.
Damp/Musty Odor
If you walk down your basement and catch a whiff of a musty, damp odor, this is a definite sign that there is moisture accumulating in your basement and that you should consider basement waterproofing. Even if you don't see any physical signs of moisture in the basement, the smell itself is enough to want to contact a nearby waterproofing company.
Visible Mold or Mildew
Mold is something that you never want to ignore. Mold can be dangerous and actually cause health complications over time if left untreated. Mold grows and thrives wherever there is moisture present. Therefore, discovering mold in your basement means that there is likely a leak in your basement that has allowed mold to grow within your home. Mold can be black, green, or white, and there are also toxic forms of mold as well. If you come across visible mold, you should contact a professional.
Wall & Floor Cracks
Even the smallest crack in your walls or floors of your basement are a sign that there is water getting in somewhere. Luckily, fixing cracks is one of the easiest and cost-effective ways to keep moisture out of your basement. Even if you do not see signs of water seepage yet, floor and wall cracks will never go away on their own and will worsen over time, so you want to address the problem as soon as you notice it.
Efflorescence and Water Marks
Efflorescence is a white, chalky substance that you will most likely find on your walls. It comes from materials such as brick or concrete. Efflorescence forms when water gets into these materials and causes the salt to come to the surface. While it is not as serious as mold, it is still a sign that moisture is getting in and that you need basement waterproofing. Similar to efflorescence, spotting stains from water that has run down your basement walls, this means that water has entered over the top of the foundation. This can happen due to poor construction or exterior sources of infiltration. If the basement is not waterproofed then it is likely to happen again.


Other Frequently Asked Questions
Is there anything I can do myself to correct the problem?
Generally, trying to correct moisture or water in the basement yourself is not the best choice. Many people try DIY waterproofing, but that risks further damage and problems if you do not have the proper experience, knowledge, and equipment. Contacting our basement waterproofing is the right choice — we will review all of the options available to you so you know your home is in the best condition possible.
Will waterproofing my basement increase the value of my home?
Yes, not only will you regain the cost of waterproofing your basement when you sell your home, but could even profit from the investment. A waterproofed basement is categorized as a livable space, which increases the value of your home. Plus, many homebuyers searching for houses with basements prefer to buy one with a basement that is already waterproofed will be more likely to pay for it.
How much does basement waterproofing cost?
The cost of basement waterproofing will significantly depend on what specific solution is being used, the size of the basement, etc.. This is why we offer hassle-free estimates. Our basement waterproofing experts will recommend the most practical and economical solution for your basement.
When Should I Waterproof My Basement?
If you are noticing the signs that you need basement waterproofing, postponing the waterproofing procedure can lead to severe, costly damage caused by water that you likely will not be aware of.
How Can I Find The Source of Basement Leaking?
Water can enter the foundation and basement in numerous ways; the most common area is where the floor and the wall meet. The natural seam is where the water can most easily penetrate your foundation. A second common source is through hydrostatic pressure. This will cause water to penetrate through cracks in the walls and floors. Many other sources are common, though not as easily visible.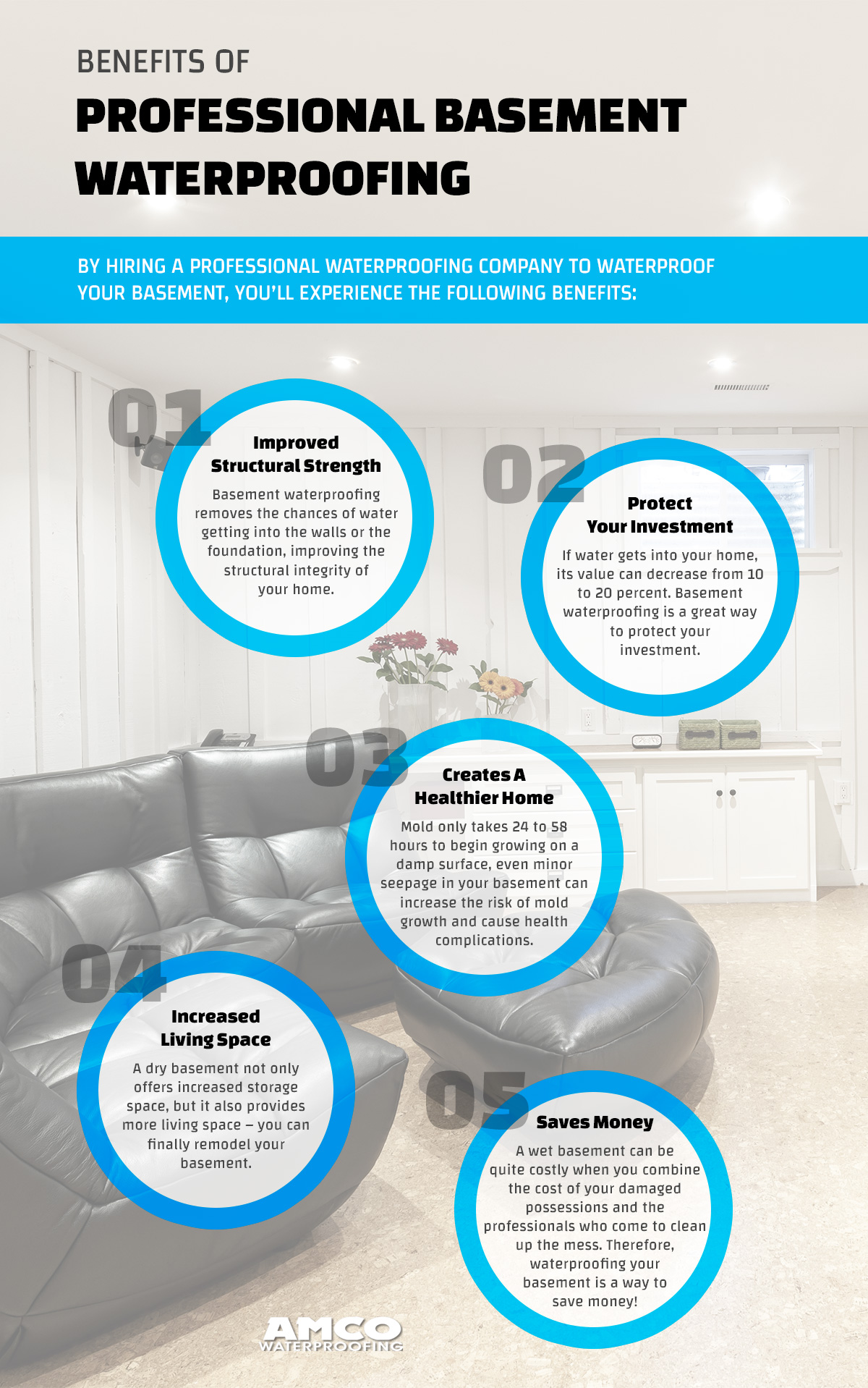 Benefits of Basement Waterproofing
By hiring a professional waterproofing company to waterproof your basement, you'll experience the following benefits:
Improved Structural Strength.

Your home's foundation supports the entire weight of your home. When water gets into the walls of the basement or foundation, they can become weak and is more likely to crack, bow, and cause other foundation issues. Basement waterproofing removes the chances of water getting into the walls or the foundation.

Protect Your Investment.

Your home is a large investment in which you want to protect. That's why it's important that you do everything you can to maintain and increase the value of your investment. If water gets into your home, the home's value can decrease from 10 to 20 percent. Should you try to sell your home, the lack of basement waterproofing will result in a lower selling price.

Creates A Healthier Home.

Mold only takes 24 to 58 hours to begin growing on a damp surface, even minor seepage in your basement can increase the risk of mold growth, causing health complications for you and your family.

Increased Living Space.

A dry basement not only offers increased storage space, but it can also provide more living space. When your basement is guaranteed to stay dry, you can finally remodel and add rooms to the area, creating extra living space. This also helps increase the volume of your home, often resulting in an average payback of over 70 percent.

Saves Money.

A wet basement can be quite costly when you combine the prices of your damaged possessions and the professionals who come to clean up the mess. Unfortunately, water damage is all too common in the United States, as 20 percent of all insurance claims made by homeowners are due in part to water damage. Therefore, waterproofing your basement is just an investment into your home's maintenance.
By opting for basement waterproofing, you're protecting the rest of your home and your wallet as well. When considering the benefits of a waterproof basement along with the risks of not doing so, it's clear just how necessary waterproofing is.

Tips For Choosing Basement Waterproofing Companies in Winston-Salem
When you are fed up with basement moisture and flooding issues and are ready to keep water out of your basement permanently, it is important to know how to find the right basement waterproofing contractor. There are a number of waterproofing companies to select from and just as many waterproofing options and solutions. Additionally, many people never have to work with a contractor, so they aren't familiar with the waterproofing companies nearby.
Nonetheless, your home is most likely your biggest asset, so it is crucial that you protect yourself and your property from shady workmanship, scams, and other issues that may occur with an unprofessional or inexperienced contractor. Follow these tips to choose the best basement waterproofing company.
By following the tips above, you will be better enabled to find the right basement waterproofing company to keep your basement dry.

Choose AMCO For Basement Waterproofing In Winston-Salem
When you are in need of a basement waterproofing in the Triad area, there's no better team to choose than AMCO Waterproofing. As a locally owned and operated business with over 20 years of experience providing professional waterproofing services in the Triad area, we have helped numerous homeowners with leaky and basement flooding issues, and designing effective waterproofing solutions for the needs of their home. From waterproofing a wet basement, fixing wet, leaking foundation walls, cracked and settling foundations, to crawl space encapsulation, we can help keep your basement dry with the following services.
Interior Perimeter Drainage
If you are having basement moisture problems, our interior waterproofing services are designed to keep your basement dry. We use the WaterGuard® basement waterproofing system to effectively capture wall and floor seepage before it reaches your basement floor. Our methods will keep your basement clean and dry so you can use the space for storage, recreational purposes, or to finish for additional living space. When combined with our basement sub pump system, your basement is completely protected.
Basement Pump Systems
The basement sump pump systems we use are designed to keep your basement dry, even when your main pump fails for whatever reason. Our basement pump systems are compatible just about all types of foundations including poured concrete, stone, block, and many more.
Crawl Space Encapsulation
Crawl space encapsulation involves removing the insulation from the floor joists and removing any mold, old debris, and vapor barriers. AMCO specializes in crawl space waterproofing and uses the H2NO Moisture Sealed Crawl Space System, one of the most effective ways to keep moisture out of the crawl space preventing mold, deterioration, mildew, and decay.
Exterior Waterproofing
We use the Tuff N Dri Waterproofing System to protect your home against below-grade moisture and ensure a dry, comfortable environment. The exterior wall waterproofing and drainage system helps reduce basement condensation by minimizing the freeze/thaw temperature cycles, thus producing a less humid basement.
Basement Stabilization
The basement stabilization methods we use are designed to address differential pressure movement as well as standard hydrostatic pressure, which can lead to cracks in the foundation and walls of your basement. This is one of the most reliable top-to-bottom stabilization methods for severely cracked foundations or bowed walls in your basement.
If you are ready to learn more about the basement waterproofing systems offered by AMCO, or want to receive a hassle-free estimate, contact our team today!